Shopping Cart
Your Cart is Empty
There was an error with PayPal
Click here to try again
Thank you for your business!
You should be receiving an order confirmation from Paypal shortly.
Exit Shopping Cart
By FRED NATH (Novelist and Neurosurgeon)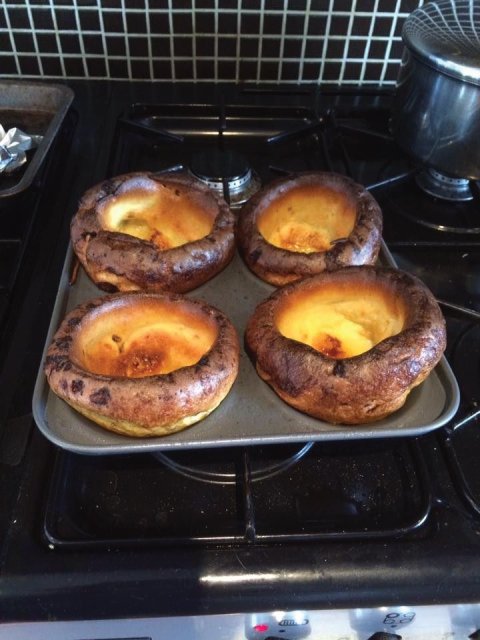 So what's all this hike about Yorkshire puddings?
For those of you who live across the pond, Yorkshire is a county in the north east of England. It has a history dating back way back when and seems to be the place the classic 'puds' arose. Three or four hundred years ago when they roasted meat in an oven, the fat and juices would drip off and be wasted unless caught in a dish underneath. In mid-18 century, the idea came to someone to put a simple pudding underneath and the 'dripping' would drip and the batter would rise – the first Yorkshire pudding!
So? I hear you say…What is it?
I use 3 level dessert spoons of plain flour to each egg. For four puds two eggs is fine. I combine the eggs with the flour using a whisk but don't over beat the mixture – it damages the starch, I think. Yes, you want air in the mixture but in olden times they just used a spoon so an electric whisk is massive and maybe too much. I add 50 ml of milk for each egg – 100 ml in this case.
Pinch of salt, grind a bit of pepper and the mixture is done. Stand in fridge overnight.
You need a Yorkshire pudding tin. Put your fat into it. I save the fat from previous joints of meat and place 1 ½ teaspoons in each division of the tray. Pop into the oven at 200 degrees C for ten minutes, until really hot.
Beat the batter – electric whisk lowest setting for up to 30 seconds. Share out the mixture evenly between the Yorkshire pudding tin compartments. Place in the oven and cross your fingers.
My ex-wife used to do really good ones – serve with gravy before the rest of the roast dinner they are a really good crisp starter. My first attempts were dismal – like pancakes. Don't be discouraged. Keep doing them and look for little wrinkles that one day work. The could look like this! (see picture).
I should have had
The Fat Chef
make them in my book , but I hadn't learned how to make them when I wrote that book. As a single guy I've had to learn from scratch.  Pretty consistently good these days too.
Every student looks forward to the long 'vacs' in summer sunshine, when outdoors mean pleasure and fun. Port Erin was my destination that year and I viewed it with more trepidation than previous holidays. I obtained a job for the Ministry of Agriculture and Fisheries, helping to catalogue histological slides of fish blood (Plaice – Pleuronectes Platessa). The high spot came at the barbecue on the beach. Duncan who worked at the marine Biology Institute arranged for the Mutton to be slow-roasted by a local Baker in his ovens the previous day.
The warmth of the dying sun; its indolence reaching out across the Irish Sea had me sitting in a starving languor as I watched that whole sheep, roasting on a spit above a scientifically constructed bonfire. The wafting odours floated on the sea-breeze and sculpted a ravenous hunger in all who watched.
My girlfriend, also a medical student, was there too in her new white mac. We sat together, eating dark and greasy meat, drinking cans of Carlsberg and sharing a moment as unique as it was memorable. Beer in hand, we danced on the beach as night descended and stars winked like diamonds above us. We walked hand in hand when the time came to go home, until we reached the frontage of the Peveril Hotel where she stayed in her new guise as a chambermaid.
Words of love came then, soft and heart-felt; for romance was, after all, in the air all around us. A fleeting thing it was, for it could not last. In the bright glare of the foyer lamps, with the backdrop of the beautiful bay of Port Erin, I realised my groping hands had wandered more than they should. Sheep-black and greasy, the evidence was there: all over the now white-and-black gabardine of my truelove's coat.
/